An old cartoon shows a young lad firing arrows at a fence, and then painting targets around the arrows. His actions may guarantee a bullseye, but there is no credibility in the result. Do we sometimes try to live our Christian lives that way - firing off in whatever direction, and then hoping we can fill in enough background images to make us look successful?
If we want success, but also credibility, we must know what we are aiming at. God has given us guidance on how to live as his people, and foundational to this are the first five books of the Bible. As Christ Wright explains, Torah is not just a legislative programme - it is guidance or instruction. The rich variety of literature - including laws, but also narrative, poetry and genealogies means we can never reduce these books to a checklist relevant only to one aspect of our lives which we denominate 'spiritual' – they must be all-encompassing.
In a series of blog posts, I will highlight one aspect from each book which sheds light on our identity as God's people, also our missionary vision, and thus helps us to truly hit the mark.
Genesis
Although interpretations of Genesis are numerous, almost every commentator agrees that 12:1-3 marks a clear turning point. Labelling chapters 1-11 as 'pre-historic' is misleading. They describe how our world was supposed to be and explain why it is as it is today. The constant sinful rebellion of mankind, culminating in the concerted attempt to remove God from the picture at Babel, does not seem prehistoric to me; it feels as if it is replayed daily on News at Ten.
Often referred to as 'Abraham's call' (12:1-3), is first and foremost about God intervening so that the world will not remain in such a hopeless state; that God's chosen means of blessing the undeserving nations is a frail human is astonishing. Abraham offers no impressive CV and, aside from his willingness to sacrifice Isaac, most subsequent episodes in his life seem to end in mediocrity or failure. But if this act of calling is pivotal in the life of Abraham, then as the 'father of the faithful' (see Romans 4) it follows that calling is also central to our identity as God's people. What then should we be aiming for in terms of our involvement in God's missionary purposes for our world?
Sacrifice
Firstly, Abraham is called to give up all that normally provides humans with identity, security, sense of importance and comfort. None of these things are sinful; but if, for example, my nationality is central to my identity, I will be hindered in being a channel of God's blessing to others. I fear that in today's church we are less and less willing to make sacrifices; but a sacrifice-less Christian life cannot be found on the pages of Scripture. We must constantly ask God what he asks us to give up so we can bless others with the Gospel.
Secondly, it seems our response determines our right to be considered part of God's people. John 1:12 states that the right to be called 'sons of God' is for those who 'receive Christ' (respond appropriately), not for those who admire from a distance. The understated description of Abraham's response - 'So Abram went, as the LORD had told him'- ensures God remains the main protagonist. There is no description of where he is going - he's not weighing up if it's a better offer, there's no guarantee of personal benefit.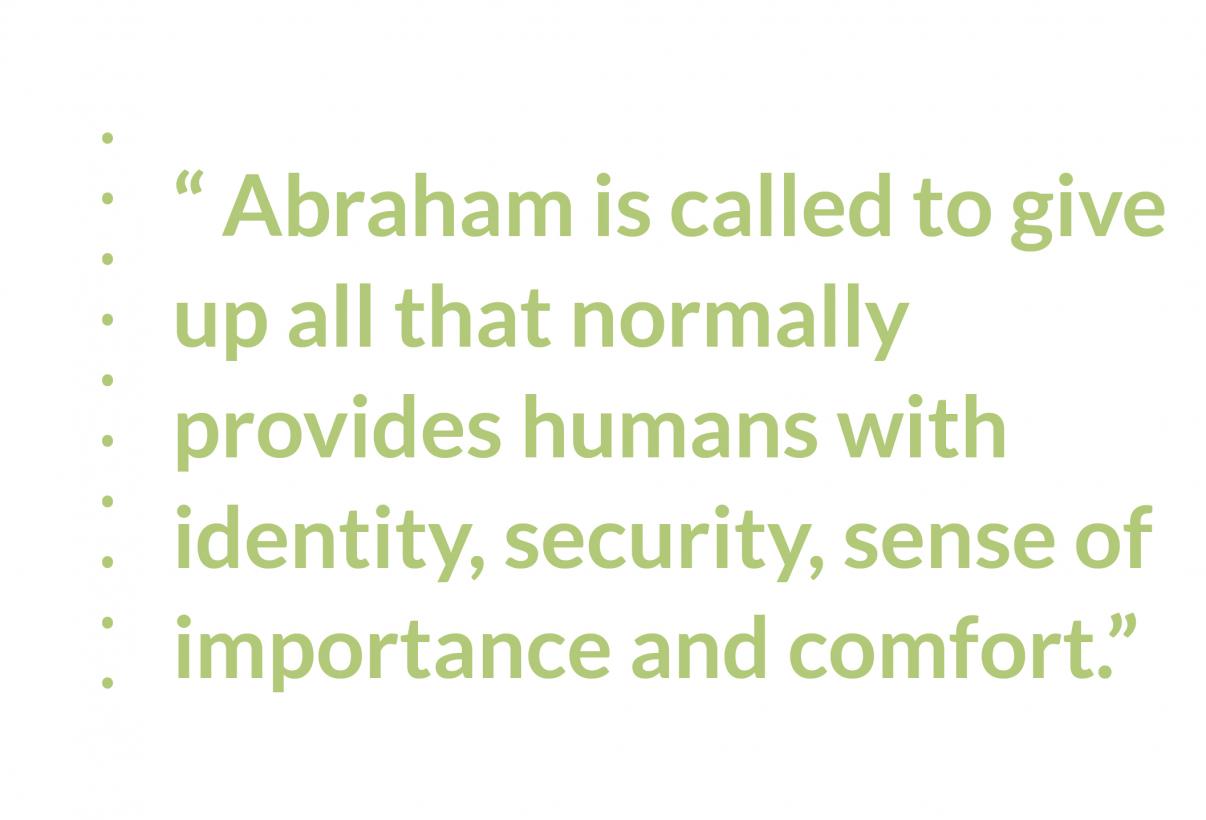 Call and response
God calls his church to mission. This means that the lack of an obedient response is not a neutral act and may make it questionable as to whether we can legitimately call ourselves 'God's people'. I fear that in today's church we have created a version of Christianity where previously considered essentials are now optional extras. We are the lesser for that.
As we follow the narrative, we observe the close link between call and response, which leads to covenant and blessing. This is ground-breaking, that God should commit himself thus to such unreliable instruments. That is why we need to understand correctly the theme of blessing, which too often today focusses only on what we receive from God.
James McKeown provides a corrective when explaining the promise that Abraham will be blessed - 'This means he will receive power from God to enable him to succeed in the role for which God has chosen him'*. Whenever the promise is repeated to Abraham or his heirs, the context is always that of blessing flowing to 'the mixed-up, sinful peoples descended from Noah'.
The point is that we are not called to receive blessing; we are called to be channels of God's blessing. The ultimate purpose is always others. So, we must ask ourselves if (or where) we have allowed our channels to silt up? Because if that happens, we no longer fulfil the purpose to which we have been called. We miss the mark.
If all this appears to add an extra burden to our lives, it should not be so. The better we know and understand the One who calls, the easier it is to respond. This will take us to Exodus next time.
Sources/further reading:
How to Read the Bible Book by Book. Authors:Gordon Fee and Douglas Stuart Publisher: Zondervan, 2002.
Old Testament Ethics for The People of God. Author:Chris Wright. Publisher: IVP, 2004.
The Bible and Other Faiths. Author:Ida Glaser. Publisher: IVP, 2005.
*Genesis - Two Horizons Old Testament Commentary. Author:James McKeown. Publisher: Eerdmans, 2008.
Bio: Andrew and Rosalia Elliott have been serving as Associate Missionaries in Spain. They are currently on extended furlough. Andrew is working part-time with the Antrim Church as well as continuing to do deputation for Baptist Missions.