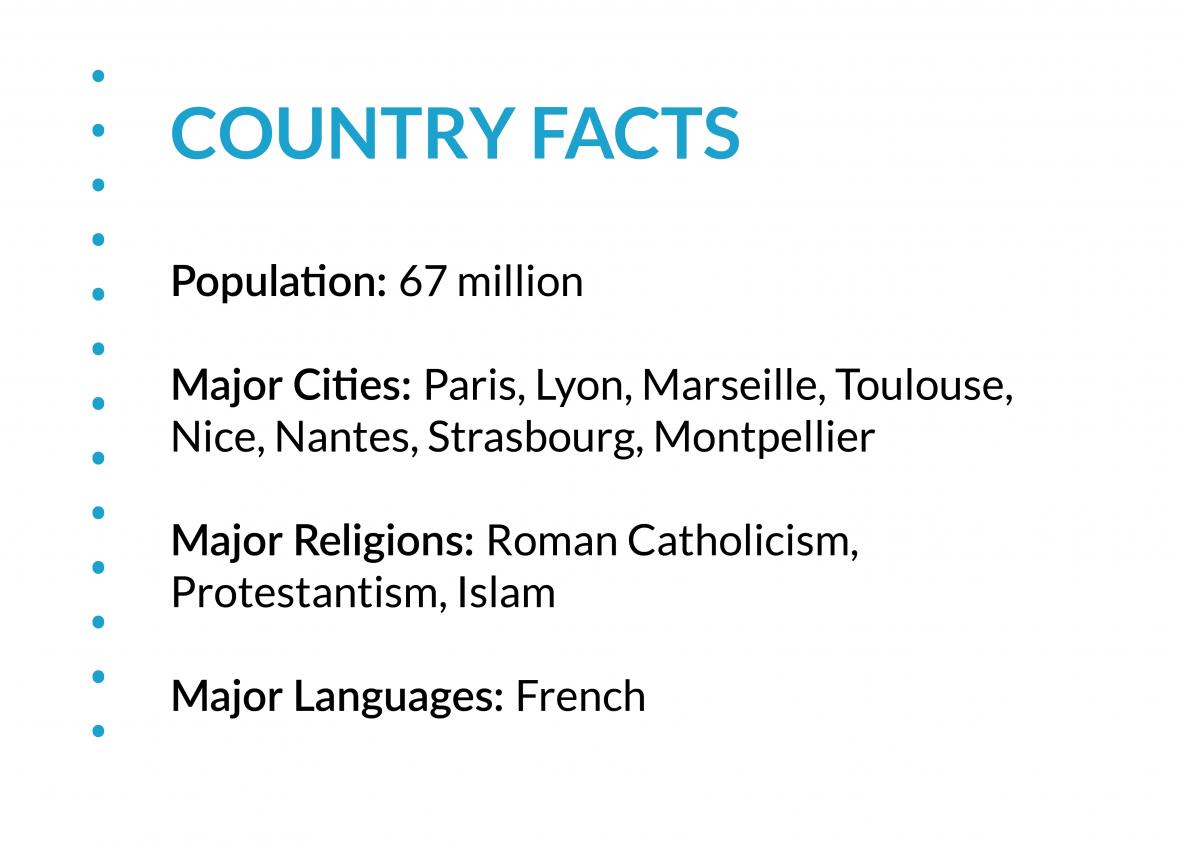 France, in Western Europe, encompasses medieval and port cities, tranquil villages, mountains and Mediterranean beaches. Paris, it's capital, is known worldwide for it's couture fashion houses, classical art museums including the Louvre and monuments like the Eiffel Tower. The country is also renowned for its sophisticated cuisine, cheese and wine. Lascaux's ancient cave drawings, Lyon's Roman theatre and the immense Palace of Versailles are testaments to its long history.

Cultural Traits
The people in France are proud of their local regions and local produce; each one finds their own wine, cheese and meat the best in the country! In addition, bread is a very important part of French culture; you should expect to eat bread with almost every meal.
France has a history of zealously standing firm for what they believe in, with a passion for defending and exercising civil liberty. Cities are densely populated and very multicultural, whereas rural areas are sparsely populated with many farms, small villages and people who are very proud of their country. In France, there is a great importance on long lunch breaks; most shops are closed between 12-2pm every day, which can make planning a shopping trip rather tricky!
How God Has Been at Work
The evangelical church is growing steadily in France. In 1970 there were approximately 1200 evangelical churches in France, today there are around 2,500. One example of new churches being planted was in the 1980's and the Marne Valley Project, which led to the formation of the church in Lagny, east of Paris. Under God, that church has overseen the planting of at least three other churches.
Evangelicals in the country make up about 1.5% of the population meaning that there is one evangelical church for every 33,000 people. There are a number of church planting initiatives to meet the great need in the country. For example one opportunity is to plant another 150 churches within the city boundary of Paris alone.
In rural France, many towns have little markets where one can find fruit and veg, honey and cheese and many other local products. These marketplaces provide opportunities to share the Gospel, as it is possible to establish Christian literature stands and engage with people one-to-one. French people are very proud of their history and, since the first mass produced Bibles were printed in France. Bible exhibitions are very common in the summer months, with presentations defending the historicity and authenticity of the scriptures.
Main Barriers to Belief
Religious scepticism and secularism is deeply embedded in the culture, making many people very suspicious of anything that seems like religion. Evangelism in France is a long-term task that demands patience and faithfulness. Building relationships and being a consistent witness for Christ over many years is the most common way of seeing people accept the message of the gospel. An emphasis on the relational aspect of the Gospel is important: knowing Christ is about having a personal relationship with God and not simply going to church. The area of faith and beliefs is also private in French culture, making the topic difficult to talk about. Some people find it invasive to be asked about their faith by someone they don't know. This means friendship is a key part of reaching the people in France for Christ.
Currently, Baptist Missions have three families and an individual that we are praying for and support in various ways. Sign up to receive regular updates from our workers in France here.