Encouragement: Minor Profile - Major Impact
Childhood football team selection always went the same way; the most unfit, noncompetitive kid (usually me) was selected for goals. Often as I watched the ball roll past me, I wondered why anyone would choose to place their most untalented player in the team's most vulnerable position? Regardless of our lack of talent, we all wanted to play up front in a prominent position and avoid the unsung supporting positions of defence.
Prominent position didn't concern Joseph. When required, he was happy to take on a supporting role for the glory of his Saviour. In comparison to Paul, Joseph was a man with minor profile but who had major impact.
There is a website that will assign you a nickname, input three adjectives that best describe your personality and it will generate your new nickname. I suspect that the suggested nickname will only be accurate if those three adjectives are supplied by those who know us best! Those who knew Joses best assigned him the nickname Barnabas, Son of Encouragement (Acts 4:36).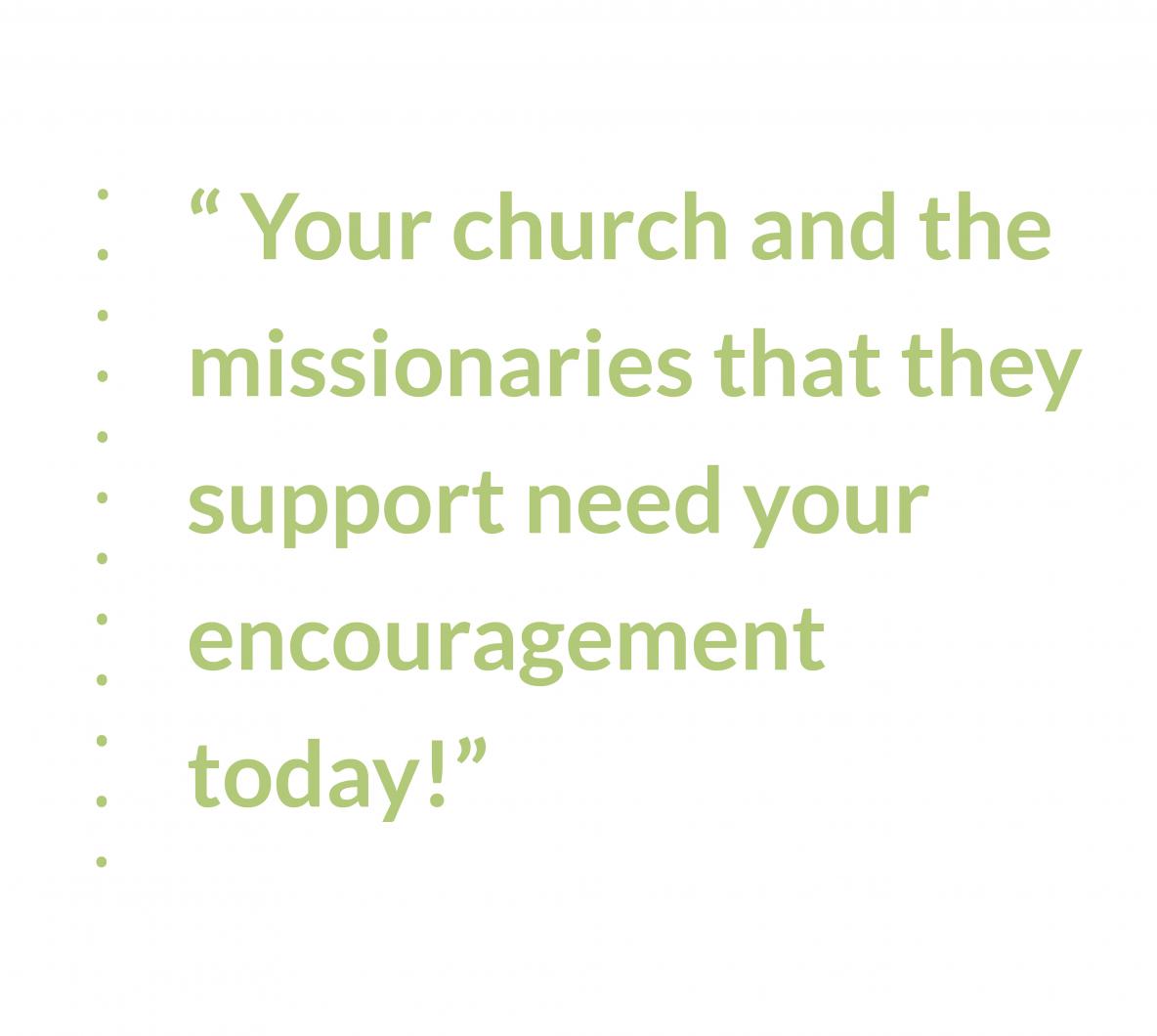 My first Saturday morning Parkrun didn't go well! I had almost given up when a voice of encouragement called to me; "keep going, you're nearly there!" That voice of encouragement made all the difference and I was able to finish the race. Your encouragement to gospel workers (Baptist Missionaries included!) may go unnoticed by others, but it will make a noticeable difference.
Your church and the missionaries that they support need your encouragement today!
Let's consider three ways from the book of Acts by which Barnabas encouraged the church at Jerusalem and their outreach to the wider world. Barnabas' life offers three examples of encouragement that we can copy today.
Barnabas Encouraged with Godly Advice
But Barnabas took him and brought him to the apostles and declared to them how on the road he had seen the Lord, who spoke to him, and how at Damascus he had preached boldly in the name of Jesus (Acts 9:27).
Barnabas' spiritual maturity, his understanding of grace, facilitated Paul's integration and acceptance into the cautious church. Without Barnabas, Paul was going nowhere!
Barnabas Encouraged by Giving Generously
Thus Joseph, who was also called by the apostles Barnabas (which means son of encouragement), a Levite, a native of Cyprus, sold a field that belonged to him and brought the money and laid it at the apostles' feet (Acts 4:36-37)
How must the Apostles have been encouraged by Barnabas' gift! In a time in history when falling into debt could mean failing into slavery, Barnabas chose faith over financial security, the growth of the gospel over financial gain.
Barnabas Encouraged by Going Gladly
While they were worshiping the Lord and fasting, the Holy Spirit said, "Set apart for me Barnabas and Saul for the work to which I have called them." Then after fasting and praying they laid their hands on them and sent them off (Acts 13:2-3).
Happy to decrease and let others increase for the sake of Jesus, by his words and his works, Barnabas encouraged those involved with the mission of the local church. Barnabas' life was not compartmentalized into work and church, full time ministry and secular vocation. For Barnabas it was one and the same thing and it was all for God's glory! When the church struggled Barnabas supported; If Barnabas couldn't go, he gave; If Barnabas could go, he went.
What an example to Christians today! Could you be a Barnabas in your church; the one who makes the difference by offering mature and Godly advice; by giving generously to gospel ministry; by going gladly? Your encouragement may go unnoticed, but it will make a noticeable difference.
David Dickson and his wife Pamela are members of the Carrickfergus Church, who encouraged them into gospel ministry and continue to support and encourage them today. David and Pamela began serving at Shankill Community Fellowship in a voluntary capacity in January 2015 and joined Baptist Missions in August 2017. They have three adult children.